Microsoft and QUANTUM-AutoMARKET together in clouds
Microsoft and QUANTUM-AutoMARKET together in clouds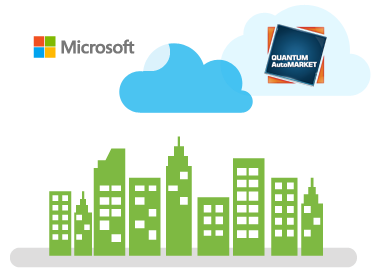 In cooperation with Microsoft office in Serbia, QUANTUM-AutoMARKET team successfully replaced hosting of their application to Azure platform.
Microsoft Azure is service platform which enables usage of hardware resources in Microsoft data centers in combination with Microsoft software products and services specialized for usage in cloud.
It's important to mention that here is not about virtualization of the machines, process which is for years available at various Cloud platforms. In the cooperation with Microsoft is made one of the first system, at this territory, which is totally integrated with Azure platform and uses infrastructure as service.
Regarding to our orientation that products and services which we offer to market, always be in accordance with the latest technologies, transit to Azure one more time confirms that QUANTUM-AutoMARKET team remains consistent to principals defined from the first day of our existence.
During the development of our products often happens that we reach the limit of the technical capabilities of the hardware and software that is currently present on the market. Transiting to Azure question of hosting we consider solved to a long period of time because of the uniqe scalability of necessary resources. One of important factor for making this important decision is also possibilityof geo-replication of engaged resources. Regarding the new market requests, to cooperate with users which are not from Europe, we get necessary flexibility for simple capacity branching to territories which are commercially interesting to us. It also enables to our partners that, if they have branches at different locations around the world, can easily and quickly to start using our software with the synchronization information in different countries / continents in real time and to count on a connection with a server that is geographically nearest to them.
Commitment that a team of Microsoft engineers joined the project realization of our transition to Azure, instil us a confidence that together we will improve our cooperation and that all participants in this project very soon have the opportunity to in their everyday work experience advantage of new services.
And in the future we will follow the philosophy that usage of new technologies in our products and business operations, is only and secure way to provide highly professional services that our customers will be satisfied and that will enable them competitiveness in relation to the environment in which they operate.